---
FOX NEWS: House votes to make Trump the first US president to be impeached twice
House approves one article of impeachment of 'incitement of insurrection' after deadly Capitol riot
---
GreekNewsOnDemand.com comments

: There is ZERO proof that Trump himself incited the Capitol riots. The House is full of TRAITORS and will be held to account for their TREASON against the American people. The ONLY people in the government calling for VIOLENCE is the DEMONIC DEMOCRATS THEMSELVES with their Black Lives Matter and ANTIFA TERRROSTS who have been TERRORIZING all of America for months!
---
The House of Representatives Wednesday made history by voting to impeach President Trump for a second time for "incitement of insurrection" after a mob of his supporters besieged the Capitol on Jan. 6 in a failed attempt to stop the certification of President-elect Joe Biden's electoral college win.
The House voted 232-197 to impeach the president. Ten Republicans joined with Democrats.
Trump has just one week left in office, but the supporters of the impeachment push say Trump is too dangerous to stay in office a minute longer. The impeachment resolution condemns Trump for spreading lies that he won the election in a landslide and whipping up a crowd of supporters in Washington D.C. before the riot that killed five people, including a Capitol Police officer.
"The bottom line is this: This Capitol was stormed. People died because of the big lies that were being told by this president, and by too many people on the other side of the aisle. Enough," said Rep. Jim McGovern, D-Mass., in a floor speech before the vote. "People should be outraged as to what happened. It was unforgivable, unconscionable.
REP. MACE BLAMES BOTH PARTIES FOR VIOLENCE IN HOUSE SPEECH: 'OUR WORDS HAVE CONSEQUENCES'
"The president of the United States instigated an attempted coup in this country," McGovern continued. "People died. Everybody should be outraged. Whether you're a Democrat or Republican. If this is not an impeachable offense. I don't know what the hell is. This president is not fit to remain in office."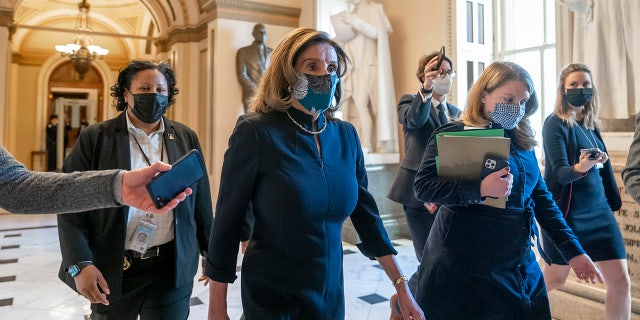 Unlike the last House impeachment of Trump in December 2019 for soliciting foreign interference in the presidential election, Democrats had GOP support. Rep. Liz Cheney, the No. 3 House Republican, backed impeachment because she said the violent attack at the Capitol could not have happened without Trump.
"The president of the United States summoned this mob, assembled the mob, and lit the flame of this attack," said Cheney, who is from Wyoming. "Everything that followed was his doing."
LIZ CHENEY FACES BACKLASH FROM SOME GOP LAWMAKERS AFTER BACKING TRUMP IMPEACHMENT
Joining Cheney in support of impeachment were GOP Reps. Dan Newhouse of Washington, Adam Kinzinger of Illinois, Fred Upton of Michigan, Jaime Herrera Beutler of Washington, John Katko of New York, Anthony Gonzalez of Ohio, Tom Rice of South Carolina, David Valadao of California and Peter Meijer of Michigan.
"President Trump betrayed his oath of office by seeking to undermine our constitutional process, and he bears responsibility for inciting the insurrection we suffered last week," Meijer tweeted in advance of the vote. "With a heavy heart, I will vote to impeach President Donald J. Trump."
READ MORE HERE >> https://www.foxnews.com/politics/house-impeaches-president-trump-second-time