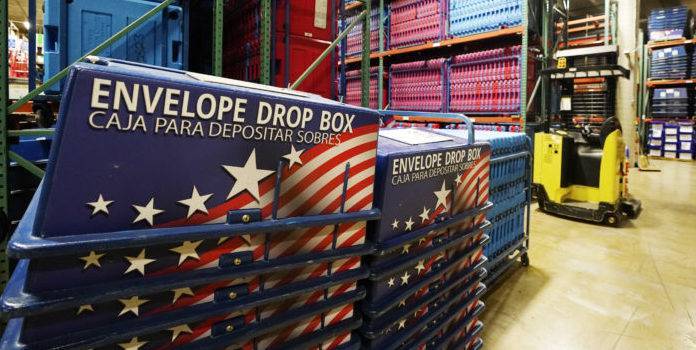 ---
The warehouse at the Maricopa County Elections Department stores all the equipment and signage for all the voting precincts in Phoenix. / PHOTO: AP
Arizona's Elections Director Colluded w/ FBI, Leftist Orgs. to 'Secure' Midterms
'You know how the CIA & DOD use contractors to fight battles they don't want to be seen fighting in an official capacity? … '
(Joshua Paladino, Headline USA) Documented ties linking the FBI and far-leftist groups to the elections chief who oversaw Arizona's suspect 2022 midterm races, currently being litigated in court, have raised further concerns of election meddling that targeted MAGA Republicans.
Arizona Elections Director Kori Lorick, who once worked for the Federal Bureau of Investigation's Cyber Division, managed the state's 2022 midterm, during which Maricopa County used the FBI as a "partner" to secure the election.
Federal and local agencies helped Maricopa County with formulating a cybersecurity plan for the election, according to the Maricopa County Recorder's office.
"We partner with the Department of Homeland Security, FBI, the County's Information Security Department and others to perform security assessments and prepare plans to ensure we have the security measures in place to respond to cyber, physical, and operational threats," according to "1.5.4—Security" on the county's website.
In addition to Lorick's ties to the FBI, she has potential ties to Sam Bankman-Fried and to the Election Integrity Partnership, which the Biden administration used to censor conservative political candidates, El American reported.
Department of Homeland Security gave $12 million in grants to four groups that work with the EIP: the Stanford Internet Observatory, the University of Washington's Center for an Informed Public, Atlantic Council's DFR Lab and Analytics firm Graphika.
The National Science Foundation awarded a $3 million grant to the Stanford and UW groups "to study ways to apply collaborative, rapid-response research to mitigate online misinformation."
Twitter journalist @DecentFiJC cobbled together these facts to show Lorick at the center of the EIP and FBI's efforts to interfere in Arizona's elections.
In 2015, Lorick graduated from Stanford Law School—the university that partnered with the Biden administration to push social media platforms, like Twitter, to censor the regime's political opponents.
Bankman-Fried's parents, Barbara Fried and Joseph Bankman, both teach at Stanford Law School.
Robby Starbuck, a former congressional candidate in Tennessee's 5th District who learned that the Election Integrity Partnership targeted him, explained how the Biden regime uses the EIP to target its opponents.
"You know how the CIA & DOD use contractors to fight battles they don't want to be seen fighting in an official capacity?," Starbuck asked. "That's essentially the EIP but acting as a Ministry of Truth."
"How it worked: DHS, the State Department, the DNC, Common Cause and the NAACP would file tickets with the EIP on posts or people they wanted censored," he continued. "The EIP did the dirty work of going to Big Tech."
One person on the EIP's top list of "Repeat Spreaders of Election Misinformation" on Twitter was Harmeet K. Dhillon, referred to by her handle @pnjaban. Dhillon is the lawyer for Arizona Republican gubernatorial candidate Kari Lake, who is currently challenging the result's of her controversial race against alleged-winner Democrat Katie Hobbs.