William and Harry lead historic coffin vigil
Prince Harry, joining his brother and cousins, wore military uniform for the ceremony.
The grandchildren's vigil started at 18:01 BST and lasted for just under 15 minutes.
Ahead of the vigil, Beatrice and Eugenie paid tribute to their "dear Grannie", saying: "It has been the honour of our lives to have been your granddaughters and we're so very proud of you."
In a joint statement, they said the Queen was "our matriarch, our guide, our loving hand on our backs leading us through this world" and that they already miss her "terribly".
They went on: "Thank you for making us laugh, for including us, for picking heather and raspberries, for marching soldiers, for our teas, for comfort, for joy.
"You, being you, will never know the impact you have had on our family and so many people around the world.
"The world mourns you and the tributes would really make you smile. They are all too true of the remarkable leader you are."
The pair told the Queen they were "so happy you're back with Grandpa" and added that "our dear Uncle Charles, the King, will continue to lead in your example as he too has dedicated his life to service".



This was another poignant image, mixing the grandeur of a public ceremony with the intimacy of personal family memories. The Queen's grandchildren were standing vigil around her coffin, with the queue of people flowing either side of them.
The people who had queued for many hours, bringing their own memories, shared the big silence of Westminster Hall with the royal grandchildren.
Prince Harry wore a Blues and Royals uniform and wearing the same uniform, on the other side of the coffin, was his brother Prince William.
Princess Beatrice and Princess Eugenie took their place in the vigil. In a tribute this afternoon they'd talked of the loss of "our dearest grannie".
With the tap-tap-tap of a soldier's sword on the stone, time was up. They finished their vigil and followed Prince William back out of the hall.


The vigil on Saturday was the first time Prince Harry had been seen in military uniform since stepping back as a working royal in 2020.
He served two tours in Afghanistan as part of the Army. He now lives in California with his wife Meghan and their two children.
The Duke of Sussex was wearing the Blues and Royals No 1 uniform, the same uniform as his brother.
Prince William has completed more than seven years of full-time military service, including three-and-a-half years as a search and rescue pilot.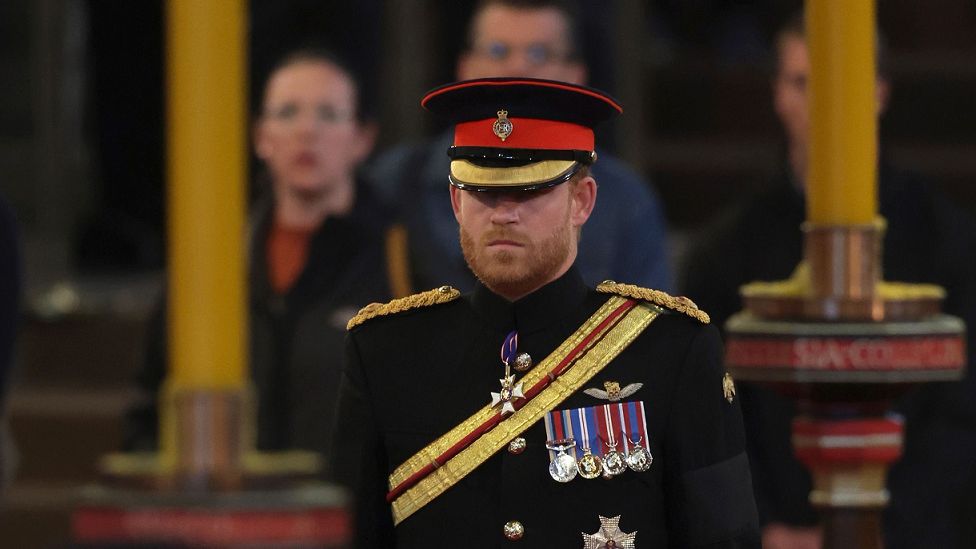 Prince Andrew was also allowed to wear his military uniform as he stood guard on Friday. The 62-year-old stepped down as a working royal in 2019, after facing questions over his relationship with the late sex offender Jeffrey Epstein.
Earlier on Saturday, Prince William and his father King Charles went to Lambeth, south London to shake hands and greet people queuing to view the Queen lying in state.
The Earl and Countess of Wessex conducted their own walkabout outside Buckingham Palace.
The Queen will lie in state at Westminster Hall until her funeral on Monday.
The queue to see the coffin stretches as far as Southwark Park and has previously seen wait times of over 24 hours. Officials have warned that the queue will be closed before 06:30 BST on Monday, so that people do not join the line and fail to reach Westminster Hall in time.
On Saturday afternoon, organisers announced that the accessible queue has reached full capacity, with all time slots now allocated.
SOURCE: https://www.bbc.com/news/uk-62938463