---
Image Credit: Chip Somodevilla/Getty Images
Trump Campaign: "The Election Is Not Over"
'Biden is relying on these states for his phony claim on the White House, but once the election is final, President Trump will be re-elected.'
---
Update: President Trump released a statement Friday vowing to maintain "the integrity of our entire election process."
"We believe the American people deserve to have full transparency into all vote counting and election certification, and that this is no longer about any single election," the president wrote in a statement, adding, "This is about the integrity of our entire election process."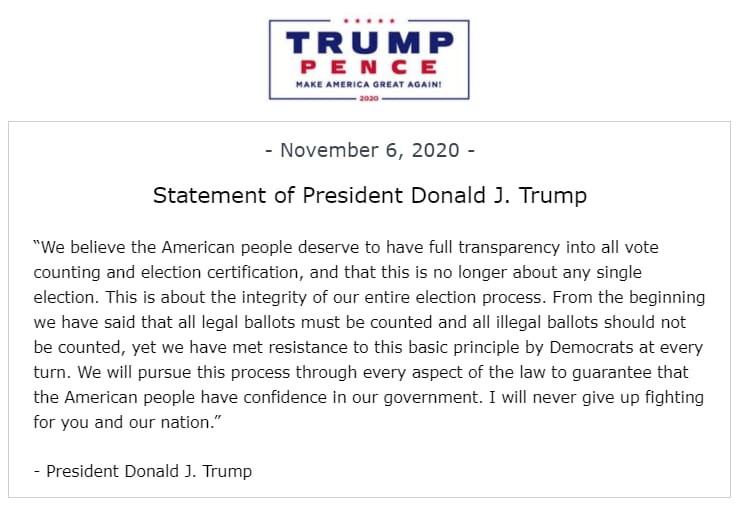 "From the beginning we have said that all legal ballots must be counted and all illegal ballots should not be counted, yet we have met resistance to this basic principle by Democrats at every turn," the president stated. "We will pursue this process through every aspect of the law to guarantee that the American people have confidence in our government."
"I will never give up fighting for you and our nation."
Original article continues below…
---
The 2020 Trump campaign team says the election has not been won by Democrat Joe Biden until voter fraud in several states can be investigated.
The message was delivered in a memo from Trump campaign general counsel Matt Morgan Friday morning.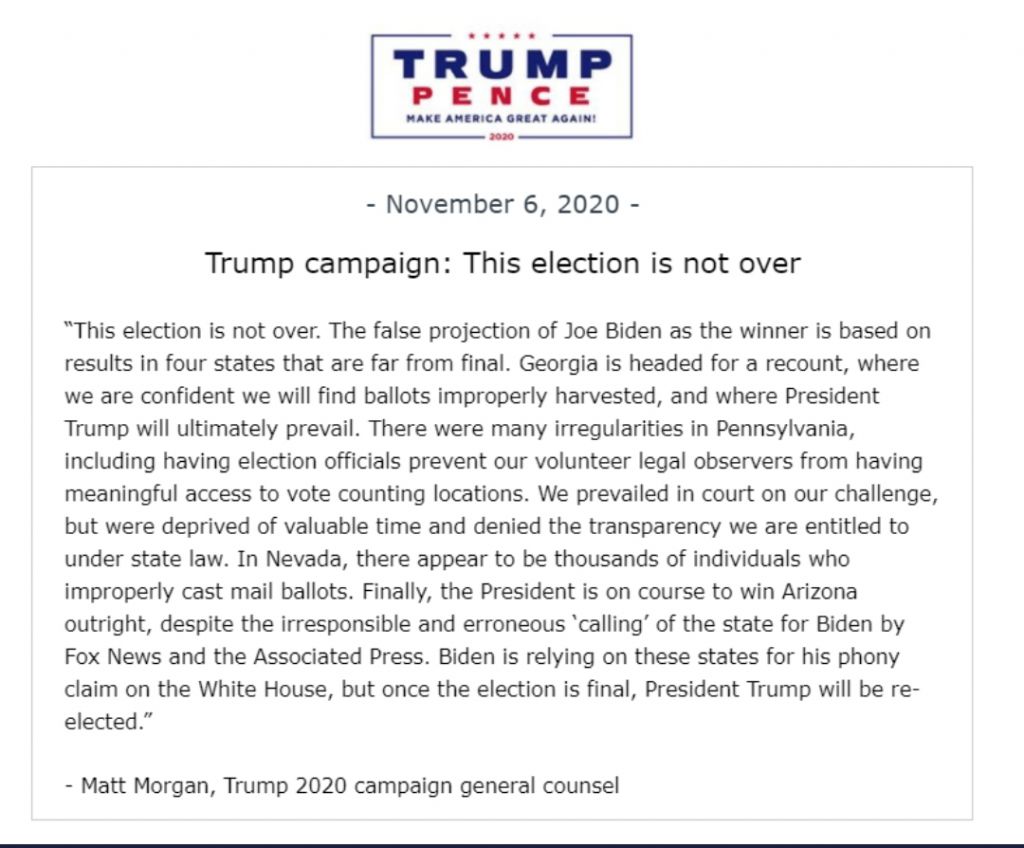 "This election is not over. The false projection of Joe Biden as the winner is based on results in four states that are far from final," Morgan's stated reads.
The team points out Georgia will be conducting a recount in addition to other states like Pennsylvania, Nevada, and Arizona also addressing irregularities.
"Georgia is headed for a recount, where we are confident we will find ballots improperly harvested, and where President Trump will ultimately prevail. There were many irregularities in Pennsylvania, including having election officials prevent our volunteer legal observers from having meaningful access to vote counting locations. We prevailed in court on our challenge, but were deprived of valuable time and denied the transparency we are entitled to under state law," he said.
"In Nevada, there appear to be thousands of individuals who improperly cast mail ballots. Finally, the President is on course to win Arizona outright, despite the irresponsible and erroneous 'calling' of the state for Biden by Fox News and the Associated Press. Biden is relying on these states for his phony claim on the White House, but once the election is final, President Trump will be re-elected," Morgan stated.
On Thursday, the president delivered remarks calling out corruption and election fraud in multiple Democrat-run states where votes continued to be counted days after Election Day.
"If you count the legal votes, I easily win," the president remarked. "If you count the illegal votes, they can try to steal the election from us."
---
Follow the author on Gab: https://gab.ai/adansalazar
On Parler: https://parler.com/profile/adansalazar/
On Facebook: https://www.facebook.com/adan.salazar.735
On Minds: https://www.minds.com/adan_infowars