---
Essex lorry deaths: Vietnamese families fear relatives among dead
Pham Thi Tra My texted two hours before the trailer arrived in Essex saying she could not breathe.
---
At least six of the 39 people found dead in a lorry trailer in Essex may have been from Vietnam.
The BBC knows of six Vietnamese families who fear their relatives are among the victims.
They include Pham Thi Tra My, 26, who has not been heard from since she sent text messages on Tuesday saying she could not breathe.
A man was earlier arrested at Stansted Airport on suspicion of manslaughter and conspiracy to traffic people.
The 48-year-old from Northern Ireland is the fourth person to be arrested in connection with the investigation.
Two people from Warrington are being held on suspicion of manslaughter and conspiracy to traffic people and the lorry driver is in custody on suspicion of murder.
Ms Tra My's brother, Pham Ngoc Tuan, said some of the £30,000 charge for getting his sister to the UK had been paid to people smugglers and her last-known location had been Belgium.
The smugglers are understood to have returned money to some families.
Meanwhile, relatives of Nguyen Dinh Luong, 20, have also said they fear he is among the 39 victims.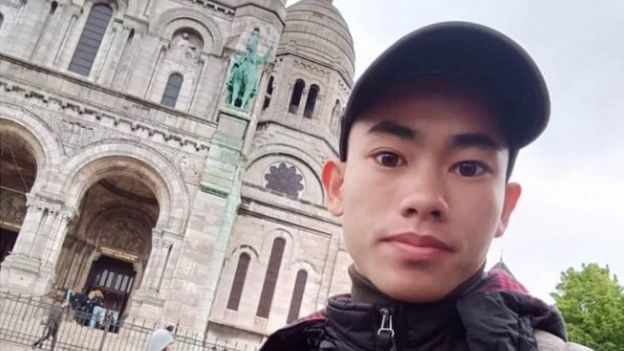 Ms Tra My's brother told the BBC: "My sister went missing on 23 October on the way from Vietnam to the UK and we couldn't contact her. We are concerned she may be in that trailer.
"We are asking the British police to help investigate so that my sister can be returned to the family."
The last message received from Ms Tra My was at 22:30 BST on Tuesday – two hours before the trailer arrived at the Purfleet terminal from Zeebrugge in Belgium.
Her family have shared texts she sent to her parents which translated read: "I am really, really sorry, Mum and Dad, my trip to a foreign land has failed.
"I am dying, I can't breathe. I love you very much Mum and Dad. I am sorry, Mother."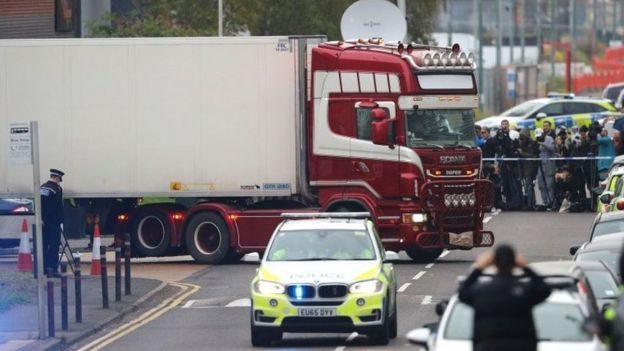 Ms Tra My's brother told the BBC her journey to the UK had begun on 3 October. She had told the family not to contact her because "the organisers" did not allow her to receive calls.
"She flew to China and stayed there for a couple days, then left for France," he said.
"She called us when she reached each destination. The first attempt she made to cross the border to the UK was 19 October, but she got caught and turned back. I don't know for sure from which port."
The BBC has passed details of Ms Tra My, who is from Nghen town in Can Loc district of Ha Tinh province area of Vietnam, to Essex Police, along with details of other people claiming to have information.
The BBC also knows of two other Vietnamese nationals who are missing – a 26-year-old man and a 19-year-old woman.
The brother of the 19-year-old said his sister called him at 07:20 Belgian local time (06:20 BST) on Tuesday, saying she was getting into a container and was turning off her phone to avoid detection.
He has not heard from her since.
He said a people smuggler returned money to the family overnight, and the family of the 26-year-old who she was travelling with also received money back.
A spokesman from the Vietnamese Embassy in London confirmed they had been in contact with Essex police since Thursday.
They said Vietnamese families had appealed to them for help finding out if their relatives were among the victims but added they had not yet received any official confirmation.
READ THE REST HERE >> https://www.bbc.com/news/uk-england-50185788