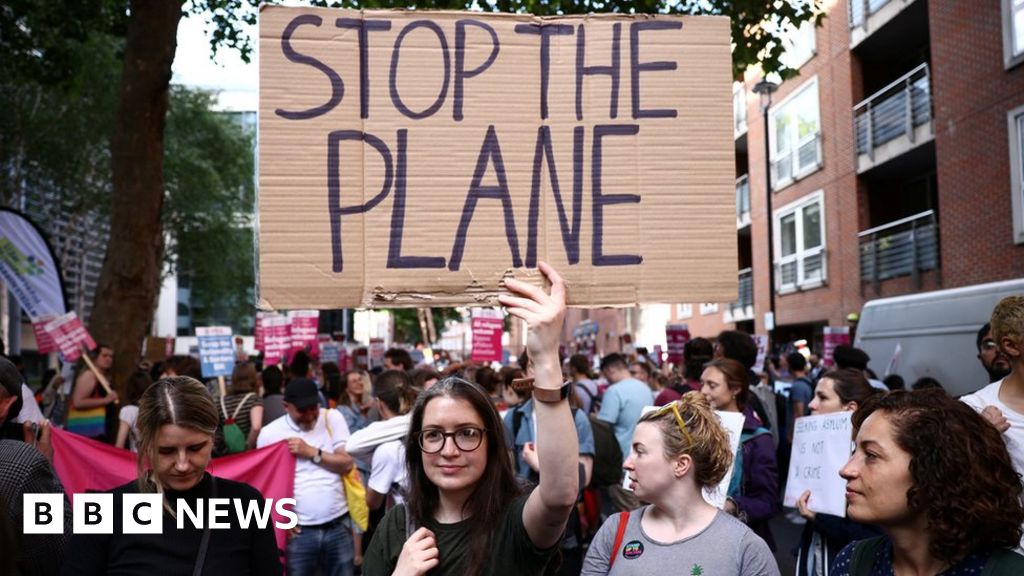 ---
Rwanda asylum plan: Man fails in High Court bid to avoid first removal flight
Flight due to depart as legal bids fail…
By Doug Faulkner
BBC News
Up to eight people are due to be on Tuesday's flight but at least three more appeals are being heard…
Boris Johnson has defended plans to fly asylum seekers to Rwanda as four men due to be on the first flight failed in their bids to avoid being removed.
Currently, six people are expected to be on the flight, due to depart from a Ministry of Defence site later.
The PM said he had always known the scheme would attract "plenty of legal challenges" and said the government may "very well" need to change the law.
The Church of England and human rights groups have criticised the plan.
The flight was meant to be removing dozens of people – estimated to be 37 by a Home Office source – but a series of legal challenges reduced that number.
And, as the planned departure neared, the European Court of Human Rights (EHCR) issued a last-minute order on Tuesday night preventing one migrant from being removed to Rwanda.
The BBC has been told that the Home Office believes further individual injunctions from the EHCR may yet prevent the flight from leaving as planned.
Earlier, four men were unsuccessful in their efforts against being removed at the High Court on Tuesday.
One man who was due to be on Tuesday's flight told the BBC he would "prefer to die" than be sent to Rwanda.
Speaking through an interpreter before he lost his appeal, the 25-year-old Iranian-Kurd said he had been kidnapped and abused by human traffickers on his way to the UK.
He said he had been told that Rwanda did not have a good record of human rights and that he had "expected more from the UK".
"Since I learned that I am among those to be deported to Rwanda, I hardly can communicate and eat. I'm restless. I prefer to die, not to be transferred there; it's shocking," he said.
It brings the total to make the crossing this year to more than 10,500 according to figures collated by the BBC.
READ MORE HERE >> https://www.bbc.com/news/uk-61799914