---
Labour says it will support an extension but calls for details on how and when the lockdown will end.
Ministers are later expected to announce a three-week extension to the coronavirus lockdown.
Foreign Secretary Dominic Raab will lead emergency Cobra committee and cabinet meetings about the continuation of social distancing measures.
Labour has said it will support an extension, but also called for details on how and when the lockdown would end.
Meanwhile, social care directors have said distribution of protective kit for carers has been "shambolic".
There have been 27 verified deaths with coronavirus among NHS staff, the Health Secretary Matt Hancock has confirmed.
On extending the lockdown, Mr Hancock told BBC Breakfast he believed the government had been clear "we think it too early to make a change".
He said: "We can see that we're reaching a peak, that is good news, but we can see that the numbers are not yet coming down, therefore we can't make a change."
Mr Hancock added that he did not want to put the "good effort" of the public to waste by ending the lockdown too early.
"If we just released all the measures now then this virus would run rampant," he said.
The health secretary is due to meet the first ministers of Scotland, Northern Ireland and Wales later ahead of making a formal decision on the lockdown.
During Wednesday's daily press briefing, Mr Hancock said restrictions on movement were beginning to help reduce the spread of the virus.
The UK's chief medical adviser, Prof Chris Whitty, has warned of a possible "bounce" in the numbers soon, due to delays in reporting deaths over the Easter weekend.
He said while the UK was "probably" reaching the peak of its epidemic, the high numbers of deaths were expected to continue for a "short while" longer.
Prime Minister Boris Johnson introduced strict curbs on life in the UK on 23 March, as the government sought to limit the spread of the virus.
Since then, people have been allowed to leave home only to exercise once a day, travel to and from work when "absolutely necessary", shop for essential items and fulfil medical or care needs.
Ministers are required by law to assess whether the rules are working, based on expert advice, every three weeks.
The government – led by Mr Raab as Mr Johnson continues to recover from the virus – will detail the outcome of the first assessment at the daily Downing Street news conference later.


All the indications are that the UK is hitting the peak of coronavirus cases. The number of patients in hospital with coronavirus seems to be levelling out.
There are more than 10,000 beds on general wards available and another 2,000 spaces in intensive care – and that's before you count the capacity available at the Nightingale hospitals.
It is this headroom that prompted NHS Providers, which represents hospital bosses, to declare this week that it was "increasingly" confident the health service could cope.
But the government's advisers will be advising ministers that the lockdown should continue.
They fear any lifting of restrictions at this stage could undo the good work, and see a spike in cases that would gobble up that spare capacity and overwhelm the health service.

Labour's shadow health secretary Jonathan Ashworth told BBC Breakfast he expected the lockdown to be extended for a further three weeks, and that the party would back an extension.
But he called for clarity from the government about "what happens next" and for a move to a "testing and contact-tracing strategy" to exit the lockdown.
He said: "Last night the junior health minister Nadine Dorries was complaining on Twitter that people shouldn't be asking about an exit strategy because there's no exit strategy until we get a vaccine.
"Well that could be 18 months away so if the government are saying we're in lockdown for 18 months they probably need to tell us."
Ministers in Scotland and Wales have already said their lockdowns are set to remain in place, while Northern Ireland's Arlene Foster confirmed the NI lockdown will be extended until 9 May.
According to the latest figures, 12,868 patients have died in hospital after testing positive for the virus in the UK, a day-on-day increase of 761.
In other developments:
'Haphazard' protective equipment
In a letter to the Department of Health and Social Care, seen by the BBC, the Association of Directors of Adult Social Services said early deliveries of personal protective equipment (PPE) had been "paltry".
It described more recent deliveries as "haphazard".
The group said mixed messages from the government had created "confusion and additional workload", as the care sector struggled to cope with the virus.
The leak came to light after the health secretary launched a new supply network, including an emergency 24/7 helpline, to help get PPE to care home staff.
Care providers have been calling for more testing and PPE for weeks, amid outbreaks at more than 2,000 homes.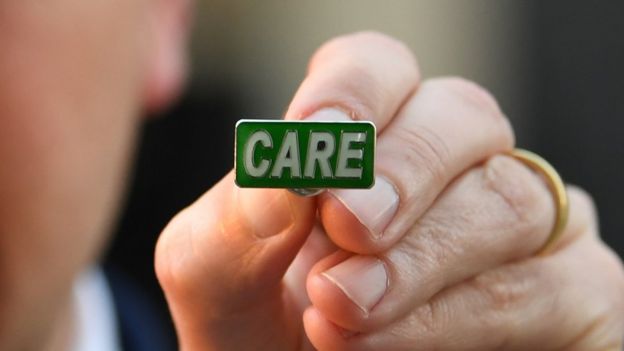 The Department of Health's statistics have come in for scrutiny in recent days. They do not include deaths in care homes – leading charities to claim the government was "airbrushing" the death toll.
In Scotland, new figures suggest a quarter of deaths linked to coronavirus have occurred in care homes.
In England and Wales there were 217 deaths in care homes by 3 April. That number is known to now be much higher. And 24 residents died after an outbreak at one care home in Staffordshire.
As part of new government guidelines, Mr Hancock announced on Wednesday that family members of dying relatives would be allowed to visit them to say their goodbyes "wherever possible".
He also promised anyone moving from hospital into social care would be tested for the virus to prevent care home outbreaks. However, critics have questioned the logistics of isolating people as they await test results.
Labour's shadow minister for social care, Liz Kendall, said few care home staff had been tested so far.
In response to Mr Hancock unveiling what he called a "badge of honour" to recognise care workers, she told the BBC: "I think probably what they want more than a brand or a badge is protective equipment, proper testing and a decent salary."
https://www.bbc.com/news/uk-52304914