---
Coronavirus: Boris Johnson 'owes his life to NHS staff'
The PM thanks those who treated him for coronavirus as the public is reminded to stay at home.
---
GreekNewsOnDemand.com comments: Boris B/S'er Johnson continues his…FAKE, little coronavirus charade when, in reality, his own website says COVID-19 is no longer considered to be a high consequence infectious disease! Read also the following…

---
Boris Johnson has said he owes his life to the NHS staff treating him for coronavirus.
In a statement released by No 10, the prime minister, 55, thanked medics at St Thomas' Hospital in London, where he continues to recover after spending three nights in intensive care.
It comes as UK deaths from the virus are expected to pass 10,000 on Sunday.
On Saturday, the UK recorded 917 new coronavirus deaths, taking total hospital deaths to 9,875.
Ministers are continuing to urge people to stay at home over the Easter weekend to curb the spread of the virus, despite warm and sunny weather across parts of the UK.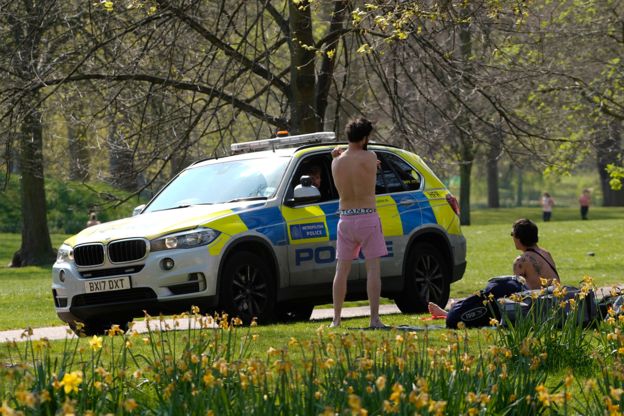 Meanwhile, Sir Jeremy Farrar, director of the Wellcome Trust – Britain's biggest charitable funder of scientific research – said the UK was likely to be "one of the worst, if not the worst affected country in Europe".
Sir Jeremy, a member of the government's Scientific Advisory Group for Emergencies (Sage), also told BBC' One's Andrew Marr programme that a second or third wave of the virus "was probably inevitable" and treatment and a vaccine was "our only true exit strategy".
He said a vaccine could be available by autumn but it would take longer to ramp up manufacturing to the scale required to vaccinate many millions of people.
"I would hope we would get [that] done in 12 months but that is in itself an unprecedented ambition," he said.
READ MORE B/S HERE >> https://www.bbc.com/news/uk-52258980
https://www.bbc.com/news/uk-52258980

GUTE-URLS
Wordpress is loading infos from greeknewsondemand
Please wait for API server guteurls.de to collect data from
greeknewsondemand.com/2020/03/25/cor...