---
Prince Andrew stepping back from royal duties
The duke says his association with convicted sex offender Jeffrey Epstein has "become a major disruption to my family's work".
---
The Duke of York says he is stepping back from royal duties because the Jeffrey Epstein scandal has become a "major disruption" to the Royal Family.
Prince Andrew, 59, said he had asked the Queen for permission to withdraw for the "foreseeable future".
He said he deeply sympathised with sex offender Epstein's victims and everyone who "wants some form of closure".
The duke has faced a growing backlash following a BBC interview about his friendship with the US financier.
In a statement, he said: "I continue to unequivocally regret my ill-judged association with Jeffrey Epstein.
"His suicide has left many unanswered questions, particularly for his victims, and I deeply sympathise with everyone who has been affected and wants some form of closure.
"I can only hope that, in time, they will be able to rebuild their lives."
He added that he was "willing to help any appropriate law enforcement agency with their investigations, if required".
BBC royal correspondent Jonny Dymond said the move was "a big step" and was "pretty much without precedent in modern times".
He said it showed a realisation that the interview had "upset a lot of people", adding: "It was more than just bad publicity for Prince Andrew, it was clearly damaging the wider institution of the Royal Family."
Earlier, a letter written to the Times newspaper by Buckingham Palace cast doubt on when the duke first met Epstein.
The 2011 letter says they met in the early 1990s, not in 1999 as Prince Andrew said in his BBC interview.
The letter was published after the Times reported on the existence of a photo of the prince with 17-year-old Virginia Giuffre, then known as Roberts, who would later testify that she had been forced to have sex with him.
The duke has always denied any form of sexual contact or relationship with her.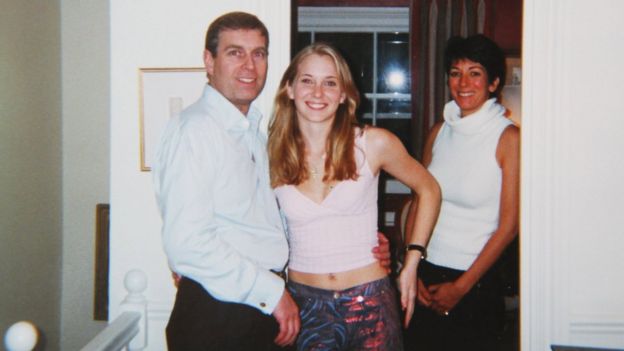 In his interview with the BBC's Newsnight on Saturday, the duke said he met Epstein "through his girlfriend back in 1999" – a reference to Ghislaine Maxwell, who had been a friend of Prince Andrew since she was at university.
The duke said he could not recall ever meeting Ms Giuffre and recalled that he went to Pizza Express in Woking and then returned home the night she claims they first met.
He sought to cast doubt on her testimony that he was "profusely sweating" in a nightclub, saying that a medical condition at the time meant he could not perspire.
The duke said meeting Epstein for a final time in 2010 was "the wrong decision", but said the "opportunities I was given to learn" about business meant he did not regret the friendship.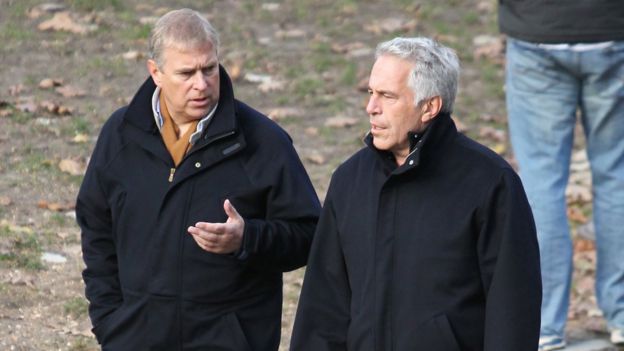 The duke's website says he carries out official duties for the Queen, focusing on promoting economic growth and skilled job creation.
Over the past two months he has carried out overseas engagements in Australia, United Arab Emirates and Thailand.
BT became the latest in a series of organisations to distance themselves from Prince Andrew, following the interview.
In a statement, the firm said it had been working with iDEA – which helps people develop digital, business and employment skills – since 2017 but "our dealings have been with its executive directors not its patron, the Duke of York".
"In light of recent developments we are reviewing our relationship with the organisation and hope that we might be able to work further with them, in the event of a change in their patronage," a spokeswoman said.
Standard Chartered Bank and KPMG also announced they were withdrawing support for the duke's business mentoring initiative [email protected] Sources told the BBC the decisions were made before the interview.
Four Australian universities also said they would not be continuing their involvement in [email protected] Australia.
Prince Andrew cancelled a planned visit to flood-hit areas of Yorkshire on Tuesday, the Sun newspaper reported.
Prince Andrew & the Epstein Scandal: The Newsnight Interview was shown on BBC Two on 16 November 2019 and can be seen on BBC iPlayer in the UK. The full interview can also be seen on YouTube.
---