---
FAKE, FALSE FLAG shooting in Dayton

: Trump says police arrived at the scene in 1 minute! WHAT?!
---
GreekNewsOnDemand.com comments

:
Just listen to what President Trump -who's also behind the gun-grab agenda under FALSE PRETEXTS- says here, that the Dayton police were at the scene in JUST…ONE MINUTE to kill the "gunman." MEANING:

THEY WERE ALREADY PREPARED FOR IT BECAUSE IT, JUST LIKE ALL THESE OTHER "SHOOTINGS," ARE NOTHING MORE THAT DEPARTMENT OF HOMELAND SECURITY DRILLS THAT TURN…"LIVE" AND ARE SOLD TO THE PUBLIC AS "REAL."
If that doesn't tell you this is ALL FAKE then NOTHING WILL! Read also our article titled "
Yet Another False Flag "Mass Shooting" Designed to Terrorize the American People! #ElPasoShooting
" and there you will all the PROOF you need and…WAKE UP, AMERICA AND WORLD!!! THERE ARE THE PLANS OF THE ELITE AND THE NEW WORLD ORDER TO TYRANNIZE US BUT WE ARE ALREADY VICTORIOUS!!! 
---
GRAPHIC CONTENT: Video released by the city of Dayton, Ohio shows police officers chasing and shooting a gunman. More here: https://t.co/JAQ8dSqajh pic.twitter.com/PvczYsjLPy

— Reuters Top News (@Reuters) August 5, 2019
The document posted online expressed concern that an influx of Hispanics into the United States will replace aging white voters, potentially turning Texas blue in elections and swinging the White House to the Democrats.
However, some observers cautioned that mass shooters are increasingly using disingenuous manifestos primarily as a means to cause division and sow political discord, rather than to advance a particular agenda. Crusius became the third mass shooter this year believed to have posted to the website 8Chan, which is a haven for both ironic trolls and racists, prior to going on a shooting rampage.
"The first mistake people are making is to assume the creep meant anything he said in his manifesto," wrote columnist Brian Cates. "Something new has been added into the mix in the last year and we have to recognize it: Mass shootings done for **fun** as the ultimate troll where these [shooters] write confusing manifestos and then sit back & watch the fun as both sides claim he belongs to the other."
Cates pointed out that the Christchurch, New Zealand mass shooter's manifesto contained a mixture of left-wing and right-wing rhetoric, and by its own explicit terms, was intended to cause international political division.
Politically, Democrats appeared split as to how much blame to assign to Trump. Booker, D-N.J., declared that Trump is "responsible" for the El Paso shooting, while another Democratic presidential contender, Julian Castro said "there's one person that's responsible directly" for the massacre — "and that's the shooter."
EL PASO SHOOTING SUSPECT CHARGED WITH CAPITAL MURDER
At the same time, Castro told ABC News' "This Week," Trump has embraced "division and bigotry and fanning the flames of hate" as a form of "political strategy."
"It's no accident that, just a few weeks after he announced his 2020 reelection bid, there he was indulging and entertaining this 'Send her back' chant," Castro said. "And he's spoken about immigrants as being invaders. "He's given license for this toxic brew of white supremacy to fester more and more in this country. And we're seeing the results of that."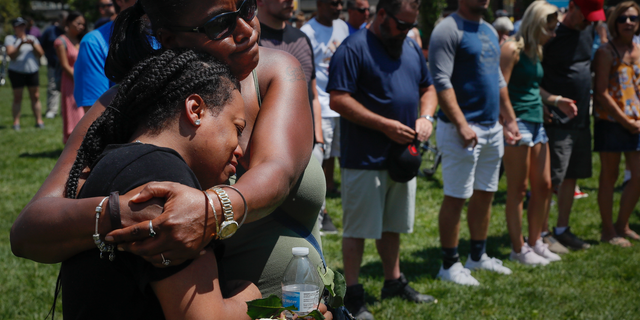 And Castro, who previously served as San Antonio mayor and U.S. housing secretary, said Trump needs to do more to "unite Americans instead of fanning the flames of bigotry."
California Sen. Kamala Harris also found blame in Trump's use of language, which she said has "incredible consequence."
"We have a president of the United States who has chosen to use his words in a way that have been about selling hate and division among us," she told reporters.
Beto O'Rourke, a former congressman from Texas, accused Trump of being a white nationalist and says he is encouraging "open racism."
WHITE HOUSE RESPONDS: NOT 'FAIR' TO BLAME TRUMP FOR SHOOTINGS
But Castro, speaking to anchor Jonathan Karl, reiterated that only the shooter bears "direct" responsibility. In a statement released later Sunday, Castro echoed that comment, saying, "These shooters are ultimately to blame for their actions. They are attempting to terrorize us but I believe that the vast majority of Americans reject this hatred."
In North Las Vegas, Bernie Sanders became one of several prominent Democrats to demand Senate Majority Leader Mitch McConnell call senators back to Washington from their summer recess.
He said the Senate should "have a special session to address gun violence in America and let us finally have the courage to take on the NRA."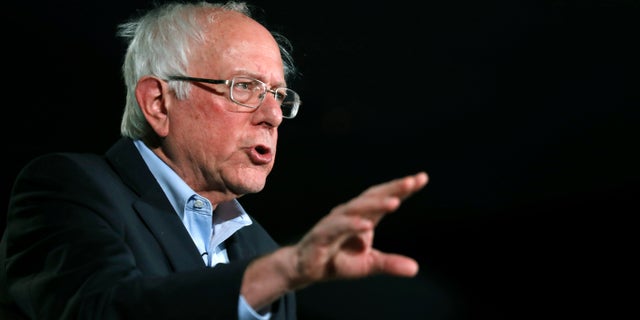 He also called out the president, saying "I say to President Trump, please stop the racist anti-immigrant rhetoric. Stop the hatred in this country which is creating the kind of violence that we see."
Sanders then joined several of his fellow Democratic presidential contenders in calling for universal background checks for firearm purchases and more restrictions on assault weapons.
"Assault weapons are designed for one reason," Sanders claimed. "They are military weapons. And I don't have to explain that to the people in Las Vegas who experienced the worst gun tragedy in the history of this country."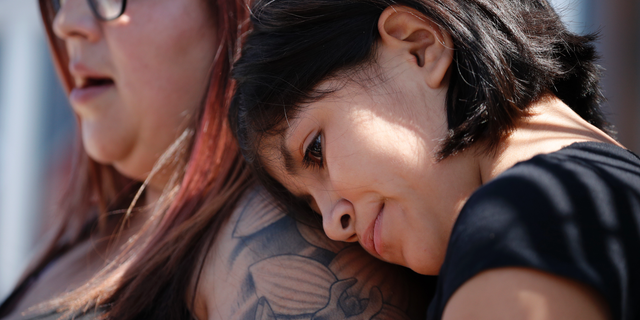 Booker backed up Sanders' call in a tweet: "This is a national crisis. Mitch McConnell needs to bring the Senate back from recess right now and hold votes on legislation to protect Americans from gun violence. Enough. We need to end this carnage now."