Central spire and roof of Paris' historic 12th-century cathedral collapse amid massive blaze. Massive fire breaks out in Notre Dame cathedral in Paris
Massive fire breaks out in Notre Dame cathedral in Paris
---
A massive fire broke out at the famed Notre Dame cathedral in Paris on Monday afternoon, officials said.
Black smoke could be seen from a distance billowing out from the top of the medieval cathedral, while flames leaped out from two of its bell towers. The sight stopped pedestrians in their tracks along the Seine River, which passes under the cathedral.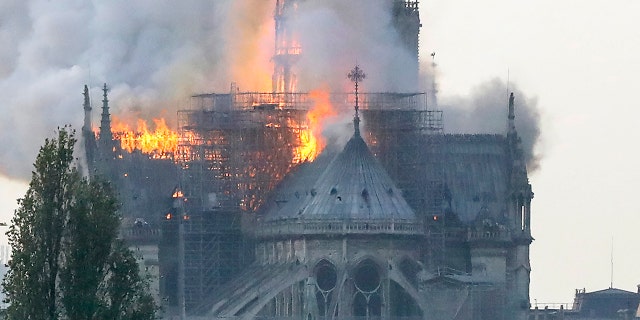 The fire department was fighting the flames, while the area near the cathedral was being cleared.
It was not immediately clear what caused the fire. Notre Dame was undergoing a $6.8 million renovation project, with some sections under scaffolding, while bronze statues were removed last week for works
#NotreDame now. Entire spire is on fire pic.twitter.com/3410wSwhf3

— Patrick Galey (@patrickgaley) April 15, 2019
Sources told Fox News that it appears the fire was related to recent construction done at the cathedral.
Macron canceled a planned televised speech to the nation in light of the "terrible fire" underway at the cathedral, an official at the president's Elysee office said.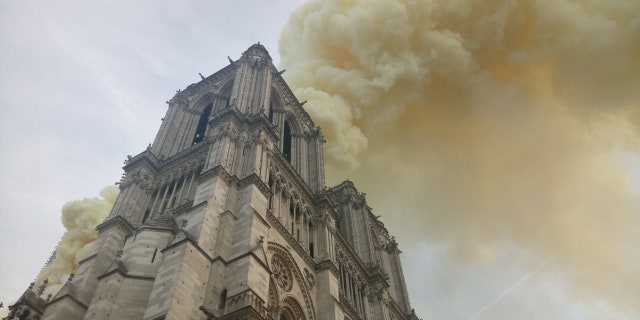 Additional information was not immediately available.
President Donald Trump tweeted about the fire, saying it was "horrible to watch the massive fire at Notre Dame Cathedral in Paris."
So horrible to watch the massive fire at Notre Dame Cathedral in Paris. Perhaps flying water tankers could be used to put it out. Must act quickly!

— Donald J. Trump (@realDonaldTrump) April 15, 2019
Located on the Ile de la Cite in the center of Paris, the Gothic cathedral – which dates back to the 12th century – attracts millions of tourists each year. It was featured in Victor Hugo's novel "The Hunchback of Notre-Dame." The cathedral is home to incalculable works of art and is one of the world's most famous tourist attractions.
This is breaking news. Please check back for updates.
https://www.foxnews.com/world/massive-fire-breaks-out-in-notre-dame-cathedral-in-paris