At least 2 killed – including child – in storm's path of destruction; gets downgraded
At least 2 killed – including child – in storm's path of destruction; gets downgraded
Hurricane Michael has weakened to a tropical storm early Thursday as it hovers over south-central Georgia, The National Hurricane Center said.
The powerful storm made landfall as a Category 4 hurricane and ripped through the Florida Panhandle with 155 mph winds and 12-foot waves that left a trail of destruction in its wake.
Rick Reichmuth, Fox News' chief meteorologist,  said Michael was the fourth most powerful storm to ever make landfall in the U.S. in terms of wind, and the third most powerful in terms of pressure, at 919 mb.
The storm has killed at least two people across its path, including one child, according to reports.
An unidentified man in the Florida Panhandle was killed by a fallen tree when it ripped through his home's roof, a spokeswoman for the Gadsden County Sheriff's Office told Fox News.
An 11-year-old girl in Seminole County, Ga., was killed Wednesday afternoon when a tree fell onto her home, Emergency Management Agency Director Travis Brooks told WMAZ-TV. The girl's identity has not been released. Brooks said first responders didn't reach the home until after nightfall due to downed trees and power lines blocking their way.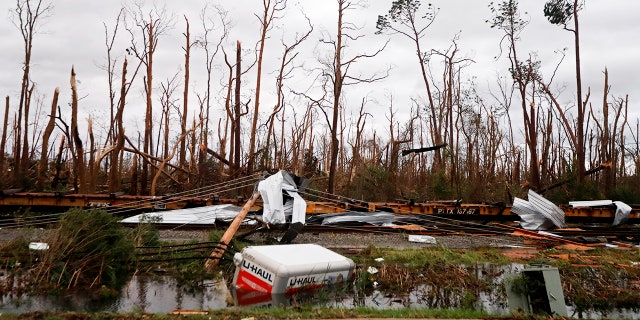 Across the Panhandle, roaring winds splintered trees and rooftops. Neighborhood streets flooded as waves battered the shoreline.
Damage in Panama City was so extensive that broken and uprooted trees and downed power lines lay nearly everywhere. Roofs were peeled away, sent airborne, and homes were split open by fallen trees. Twisted street signs lay on the ground.
More than 380,000 homes and businesses were without power at the height of the storm.
Meanwhile, Michael continues its track across southern Georgia toward the Carolinas. The storm, which has sustained winds of 60 mph, was about 25 miles east of Macon, Ga., the National Hurricane Center said in a 2 a.m. ET advisory.
Michael is forecast to move off the Mid-Atlantic coast by early Friday, the NHC said.
The Associated Press contributed to this report.