Khabib Nurmagomedov faces $2M fine for post-fight melee: report
The Nevada State Athletic Commission is reportedly weighing whether to keep Khabib Nurmagomedov's entire fight purse from UFC 229 over a post-fight brawl that broke out on Saturday after the champion's win against Conor McGregor in Las Vegas.
UFC President Dana White told TMZ that the NSAC has taken Nurmagomedov's purse pending an investigation and is considering keeping the entire $2 million. White criticized the NSAC's consideration, saying that Nurmagomedov should undoubtedly be fined, but nowhere near the entire fight purse.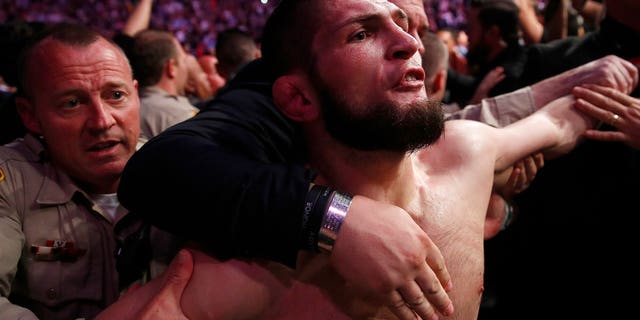 After McGregor tapped out in the fourth round of his comeback fight against his opponent on Saturday, Nurmagomedov climbed the cage and leaped at the men in McGregor's corner, setting off a prolonged brawl inside and outside the octagon. Meanwhile, two men from Nurmagomedov's entourage climbed into the cage and attacked McGregor, who defended himself before security personnel rushed in to restore order.
White said Nurmagomedov should be suspended, and acknowledged that the UFC might strip its title from the Dagestan-born Russian fighter.
"If he gets suspended, it depends on how long his suspension is," White said. "And if it's a long suspension, yeah, he's probably going to get it stripped."
The fight had been pegged as a comeback for McGregor, whose career was derailed in April after he attacked a bus carrying Nurmagomedov in Brooklyn. McGregor shattered the bus windows with a hand truck because he was angry about Nurmagomedov confronting one of his teammates earlier in the week.
During a post-fight news conference, Nurmagomedov apologized for the outburst which he blamed on McGregor's pre-fight taunts.
"You cannot talk about religion," Nurmagomedov said. "You cannot talk about nation. You cannot talk about this now."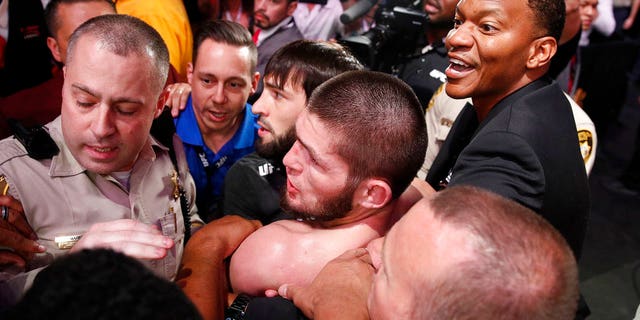 Nurmagomedov and McGregor both left the ring before the championship belt could be given to Nurmagomedov. Fans in the pro-Conor crowd reportedly threw beers and debris at Nurmagomedov on his way out. White said he feared a melee in the arena if he awarded the belt to Nurmagomedov.
"I don't even know what to say right now," White said. "I'm just disgusted and sick over it. … We had so much security and (police) here. I didn't see that one coming."
Saturday's fight nevertheless reached more than 2 million pay-per-views for UCF 229, making it one of the organization's top viewed fights of all time, TMZ reported.
The Associated Press contributed to this report.
https://www.foxnews.com/entertainment/khabib-nurmagomedov-faces-2m-fine-for-post-fight-melee-report