The 2018 Los Angeles Nollywood Awards Had An International Flair
The 2018 Los Angeles Nollywood Awards Had An International Flair
The much anticipated Los Angeles Nollywood Film Awards Ceremony screened an international slate of films!…
INGLEWOOD, Calif. – Aug. 8, 2018 – PRLog — On Sunday, August 5th, the Los Angeles Nollywood Film Association (LANFA) had their black tie film awards ceremony at the historic Miracle Theater in Inglewood, CA. Multi-talented and acclaimed filmmaker, King Bassey, is the founder of this wonderful film festival.
The celebrities and VIPs in attendance were Founder of the Nollywood Awards and Movie Producer King Bassey, Event hosts Motown Maurice (Liongate's Snake Outta Compton) and Scholastica Oge ILoghalu,  honorees Actress Alice Amter with the Trailblazer Award (The Big Bang Theory), SAG/AFTRA actress and radio personality Amber Lynn with the Humanitarian Achievement Award (Lionsgate's Who's Jenna?), the first African-American Bond girl Gloria Hendry with the Living Legend Award (Live and Let Die), Producer Anoush Sadegh (First Born), filmmaker awardees Dustin Ferguson (Best Science Fiction and Best Science Fiction Director, Nemesis 5: The New Model), Mike Olafson (Best Director, Action Comedy-Hot Lead Hard Fury), former five-time World Kickboxing Champion Grandmaster and filmmaker Robert Parham (Best Action Film-Jackson Bolt), Steve Oakley (Best Sitcom-Stan's 420 Adventure), Elham Madani (Best Humanitarian Director-Producer16/03), media personalities honorees Orlando Jose and Nicole Dunlap, actor awardees Best Actor, Science Fiction, Nemesis 5, Mel Novak (Black Belt Jones), Best Actress Science Fiction, Dawna Lee Heising (Samurai Cop 2: Deadly Vengeance), Best Voice Over Artist for Suspense Show, Vida Ghaffari (The Mindy Project), Best Action Star, Lockhart: Unleashing the Talisman, David Lockhart (Senior Entourage), Best Actor, Drama, Dreams I Never Had Iyad Hajjaj (Madame Secretary), Best Martial Arts Star John Kinkaid Unleashed JJ Stomp (Stomp Kid), actress Reatha Grey (Betty White's Off Their Rockers), presenters and Katherin Kovin-Pacino (The Gym) and her husband William Lashbrook (Below Ground Zero), presenter Craig Bruss (Runaway Killer), most inspirational radio/online talk show host awardee Tyrone Tann (Stauros Entertainment) producer Jenna Urban (Sins of the Father) best single awardee Marneen Lynne Fields (Royal Flush) celebrity fashion designer Vida Craddock and entertainment attorney Nadia Davari. Other awardees were Best Thriller and Best Director, Thriller, Into A Dark Mind Harley Wallen (Bennett's Song) and Best Actress, Thriller Kaiti Wallen (Moving Parts).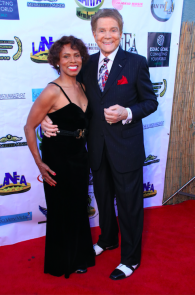 Black Belt Jones Reunion with Gloria Hendry and Mel Novak
Sponsors for this event are Jojokid Music, Nollywood Film Academy, FAN TV LA, Esdiac Global, the Universe Multicultural Film Festival, Mesmerized Minds, The Williamson Management and So Very Vida.
About King Bassey:
LANFA was created by King Bassey, who hails from Akwa lbom, Nigeria. He has an associates degrees in Electronic tech and micro computers from National Technical School and a Bachelors degree in Media Production at Intercontinental University, Los Angeles, His concentration was in the area of directing producing, editing, screenwriting and cinematography. After looking at the negative images and portrayal of Africans on TV, King become one of the first to start Afrikan Network Television on a UHF channel in the early 90's, bringing programs from Africa to educate people about Africa and it was even featured in the LA Times. After many years the station could not make it because of funding, King Bassey did not give up, he embarked on a song writing career.  He has released about three albums, the most recent one, David Dance, and started organization called the  Los Angeles Nollywood Film Association (LANFA). Lanfa's goal is to provide a platform for our creative artists to produce and showcase the unique artistic abilities, increase the level of awareness in the community, promote the brand, strengthen and grow the credibility of the group. To also foster the creation of successful working partnerships, empower networking, raise visibility, and strengthen distribution and marketing channels. Every year, the festival screens Afrikan and other international films. He won several awards, best African singer and writer from the City of Los Angeles, Award for best Video Programming,  Educational & Documentary, Media award for best photographer.  He directed and produced his first films called Johno the Fake Producer, in 2007, his second film Undisciplined, about the way negligent parents raise their children, and in 2010, he directed Queen In LA movie, which is about human trafficking. His latest film in the making now is called A Woman In A Man's World, and is a multicultural film creating awareness on the global fight for violence against women in work, home and church. He also started a campaign called "Let's Get Our Women Back."
About the Miracle Theater:
Built in 1937, The Ritz – now revived as The Miracle – is once again home to local and international entertainment. Featuring music, movies, comedy, and community, The Miracle Theater offers a prominent arts and culture a venue on Market Street. Famous artists such as Ice-T, Bootsy Collins and Nina Simone among others have performed here. Issa Rae, the creator and star of Insecure on HBO had her series season 2 premiere here.
Photo courtesy of Bob Delgadillo
More info about the festival: http://lanfaa.com/
Account Email Address 

     Account Phone Number 

Disclaimer
Report Abuse
Page Updated Last on: Aug 11, 2018