One killed in Paris 'Islamic State' knife attack (false flag)
A man kills a passer-by before being shot dead by police in an attack claimed by Islamic State.
GreekNewsOnDemand,com comments

: More….LIES from the mainstream new media and our governments regarding these…FAKE "terrorist attacks" meant to serve as…PRETEXTS by which they take away our…RIGHTS and TYRANNIZE US!! DO NOT BUY INTO THIS GARBAGE!! ALL the Paris "attacks" were FAKE and STAGED!!…
See, for example, this documentary from 2016 and then read the BBC article….
https://www.youtube.com/watch?v=okFkwZAEo5k
A knifeman has killed one person and wounded four in a suspected terror attack in central Paris, French officials say.
The attacker was then shot dead by police in the Opéra district. Witnesses say they heard him shout "Allah Akbar".
So-called Islamic State (IS) later said one of its soldiers carried out the attack on Saturday evening.
It took place in an area renowned for its nightlife. People ran for cover into cafes and restaurants.
French President Emmanuel Macron tweeted (in French): "France has once again paid in blood, but will not give an inch to the enemies of freedom."
How did the events unfold?
The attacker began stabbing passers-by at about 21:30 local time (19:30 GMT) on the rue Monsigny.
He also tried to enter several bars and restaurants, but was blocked by people hiding inside.
Police first tried to stop the assailant with a stun-gun before shooting him dead. He has not yet been identified.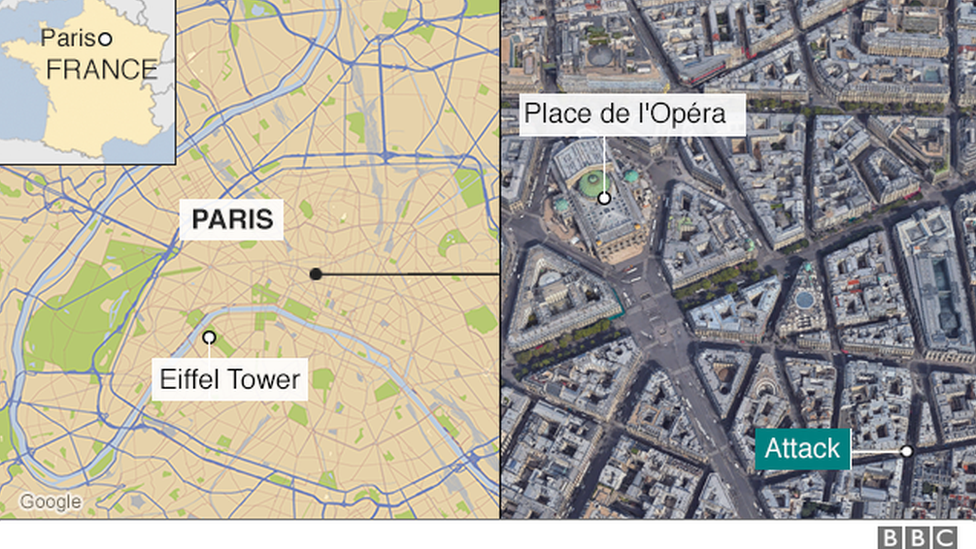 Two of the wounded in the attack are in a serious condition.
IS claimed the attack in a brief statement posted on its news outlet.
How did French authorities react?
The anti-terrorism unit of the Paris prosecutor's office has launched an investigation.
French Interior Minister Gérard Collomb praised police for their "cool response". He said his first thoughts were "with the victims of this heinous act".
Paris Mayor Anne Hidalgo tweeted (in French): "Tonight, our city was bruised."
"I want to tell them that all Parisians are on their side," she added.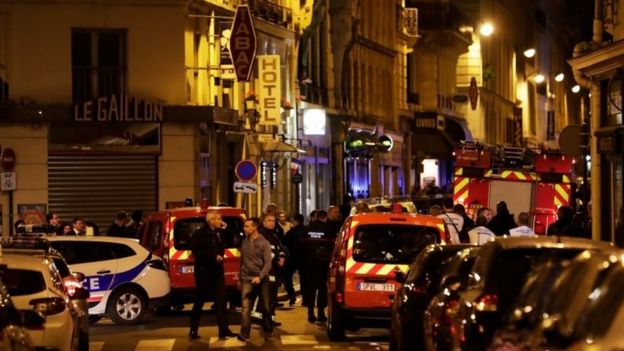 How has France been countering security threats?
France has been on high alert following a series of attacks. More than 230 people have been killed by IS-inspired jihadists in the past three years.
The deadliest violence occurred on 13 November 2015, when gunmen and suicide bombers struck various venues in Paris almost simultaneously – killing a total 130 people.
After winning last year's elections, President Macron pledged that fighting Islamist terrorism would be his top foreign policy priority.
Defeating IS in Iraq and Syria must go hand-in-hand with anti-terror measures in Africa, he said.